N Scale Modular - The 1:2 modules
We have four modules that are single track at one end and double track at the other ("1:2" boards in our shorthand). There are a pair of outside corner modules and a pair of straight ones.
Corner

East Fork

West Fork

Straight

The Road Bridge

| | |
| --- | --- |
| | Trains spotters on the road bridge! |

Desert Fork
They are used either as the yard throats for the storage yards or to create a double track passing place, normally with one or both of Cascade Falls and Dilithium Fuels.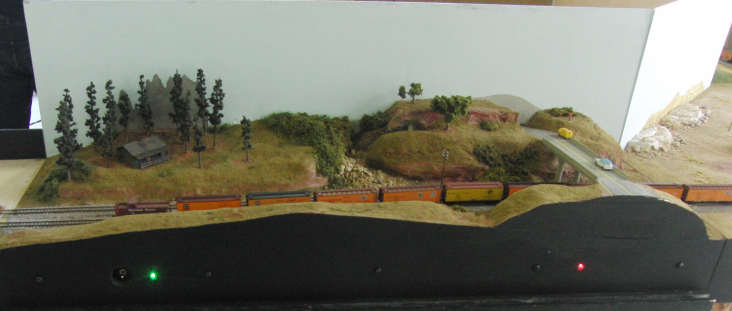 Each 1:2 module has red/green LEDs mounted on the inner and external fascias that are used to indicate if an inbound or outbound route is selected when they are used as a yard throat module. These LEDs are only activated when the 1:2 board is attached to a yard 2:4 module because the power to the circuit board controlling the LEDs is interrupted if not connected to such a module.